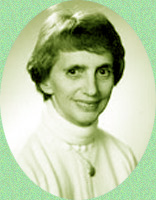 Swiss born Devika Elisabeth trained with some of the 20th century's pioneers of humanistic psychology, including Roberto Assagioli [founder of psychosynthesis], Carl Rogers [creator of "The Person-Centered" Approach, the basis of current day counseling therapy], and Dane Rudhyar, who revolutionized modern astrology. She is author of the book, One Quest, Many Meetings, [available through the publisher: www.ispck.org.in].

This morning when the alarm clock woke me at half past five, I was feeling tired, with a sore throat coming back after I had thought my cold was over. It was the second day of the three-day Meditation Intensive and I had decided to do it full-heartedly, keeping silent and respecting all the suggestions of the program, with the desire to cleanse myself of all the "dust" I had gathered since last visiting the Osho [meditation resort].
The first day had been fine and I was happy. I had enjoyed Dynamic in spite of my weak body and the fear that I couldn't make it. I was doing it at the suggestion of my metaphysical counselor. He had felt much "controlled energy" in my power chakra, and hate, which I saw mirrored in a relationship and knew could well be mine.
He had touched a sensitive spot, and I was willing to experiment. So I had catharted all the anger that I could contact and thought I had done well. So, with the good conscience of one who has done a good job, I was asking myself this morning if it were really necessary to force my sick body, or if it wouldn't be wiser to listen to its need to rest. The program coordinator had a cold and was being replaced, so why couldn't I allow myself to miss a Dynamic and instead do one hour of quiet sitting?

I recognized my usual split mind and envied his experience of totality Osho had mentioned in a recent discourse. But I was not he, and I remembered him explaining once that as long as we are not total, we should go with the majority of our inner voices, listening to this mysterious something that tells us to "go in spite of...."
So I went, and while walking to Buddha Hall, with all my hesitations, recalled another piece of Osho's advice: once a decision is taken, better go totally with it, even if it's a mistake. Then at least we'll learn something from it.
Blowing my nose [necessary before starting the first stage of breathing with its forceful exhalation], I started the breathing, then entered the [second stage of] catharsis, with little hope of getting much out of it. But I was in for a surprise. Starting with the word hate – although I thought I was done with anger – I started shouting, "I hate this Dynamic Meditation!"
How true it sounded, so I could really enjoy shouting it again and again. A scary scream opened the gate and a whole flood of hate took over. I lost control and could hear myself screaming from my guts, from an amazing despair that flowed into violent tears. For the first time I experienced a primal scream of hurt and revolt, a total "no" to life, to everybody and everything...raw hate!

As the "Hoo" stage began, it took me some time to shift from this upheaval and to enjoy the freed energy in jumping. At the "Stop" stage I could witness the immense relief, the wellbeing and calmness of a cleansed body and mind. Love was there again, for all that which I had hated. I could see myself in the same boat as anybody hating anything and, as I had touched both the pain and the strength present at the heart of my hate, I could feel compassion and respect for this wild energy.

By the Dance stage I felt light and whole. Some split in me had melted and I felt renewed and like a vulnerable child.
Leaving Buddha Hall I opened a thankful heart to Dynamic Meditation, to Osho, to the world around me and to myself.
...Back For More Perspectives on Dynamic
Copyright© Osho Times International

Devika Elisabeth Berthout
Switzerland
E-mail: